Category —
Shane Mosley
Boring fight. Shane Mosley seemed more intent on surviving 12 rounds instead of fighting. Much like he did against Floyd Mayweather, Mosley failed to put together any combinations and exchange with Pacquiao, despite the champ chasing him all around the ring. Mosley got credit for a knockdown in the 10th, though it was obvious to everyone except referee Kenny Bayless that it was a push.
So will Floyd come out to play? Or will he wait until Pacquiao is 39 years old like Mosley to fight the pound-for-pound king? We get some heat for saying Pacquiao would whoop his ass, but when we push the issue and ask why Floyd won't fight silence is the answer.
Think Floyd will show up at the fight?
We keep hearing about how Shane Mosley has the style to beat Manny Pacquiao. We also hear how he has the power and hand speed, even at 39, to exchange with Pacquiao. But we're not buying it.
Mosley will have his moments in Saturday night's showdown at the MGM Grand in Las Vegas. But for the 1st time in his distinguished career, Mosley will be stopped. Pacquiao in a TKO in 7.
With Saturday's Manny Pacquiao-Shane Mosley at the MGM Grand in Las Vegas, the party atmosphere in Sin City will heat up considerably.
At Studio 54 inside the MGM Grand, MMA ring girl and Playboy model Arianny Celeste will host a pre-fight party on Friday, May 6. Red carpet arrivals are scheduled to begin about 11:30 p.m.
At Caesars Palace, Chris Brown will celebrate his 22nd birthday with a bash at Pure nightclub. Red carpet arrivals are slated to begin there at about midnight.
Studio 54 info: 702.891.7279 or MGMGrand.com.
Pure info: 702.731.7873 or Caesars Palace.
It's more of the same bs from Bob Arum. Arum is no stranger to having his own agenda instead of giving boxing fans what they want. If we can't convince chicken Floyd Mayweather to step into the ring, why not have Manny Pacquiao fight unbeaten Andre Berto or the Devon Alexander-Tim Bradley winner?
This deal for Pacman to fight punch-drunk Shane Mosley surely has to tweak Oscar De La Hoya and his Golden Boy crew in the worst way. Mosley, who supposedly had a falling out with his former partners at Golden Boy and could use some extra coin to pay off his former wife, dropped Golden Boy like a bad habit and then Arum rewards him with a fight against Pacquiao. How's that for a crooked promoter?
FanHouse.com
Queensberry Rules
Shane Mosley missed a big opportunity. Twice, in the second round, Mosley buckled Floyd Mayweather and had the unbeaten fighter in trouble. But his hesitancy (he actually seemed afraid) to follow up cost him the fight and Mayweather outboxed him the rest of the way to score a unanimous decision tonight in Las Vegas.
Mosley fought like a 6-year-old on the first day of school. He wouldn't punch, even when he had Mayweather on the ropes after landing an overhand right that almost sent Mayweather to the canvas.
This is why Mayweather is afraid to fight Manny Pacquiao. Had Pacquiao nailed Mayweather like Mosley had, it would have been a done deal.
Let's hope the principals can work out a deal. There is no other fight and the public demands it.
He's a huge underdog and facing a fighter who hasn't lost. All of the experts are picking Floyd Mayweather Jr. and he's a 4-1 underdog at the sportsbooks. But for some reason, we like the fool's gold.
Shane Mosley has nothing to lose. He's 38 and nearing the end of his Hall of Fame career. A victory over Mayweather would put a nice cap on it as he heads for the sunset.
Mosley is bigger and more powerful than Mayweather. The key for him will be frequently tagging the elusive Mayweather, who is one of the best defensive fighters in the business. An old Oscar De La Hoya had no problem doing it, but he couldn't keep it up for 12 rounds. If Mosley can muster the stamina to stick for 12 rounds, despite his age, we like him winning a unanimous decision. Foolish, right?
A rematch will follow down the road, putting that Mayweather-Manny Pacquiao fight on the shelf for another year.
Fight night. It isn't Floyd Mayweather-Manny Pacquiao, but many are anticipating this showdown between Mayweather and Shane Mosley tonight at the MGM Grand in Las Vegas. We'll weigh in with our prediction later today.
In the meantime, Bryan Armen Graham provides some facts, figures and a prediction.
SI.com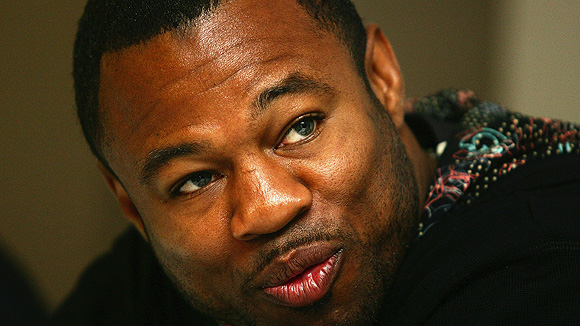 Being in the ring provides a much-needed refuge for "Sugar" Shane Mosley. Outside it, there is enough chaos to make a grown man cry. Mosley though is directing his attention on Saturday's clash with Floyd Mayweather at the MGM Grand in Las Vegas.
In addition to the taunts from Mayweather and his family, Mosley has been hearing it from Victor Conte, the ex-con and former head of BALCO. There also is the bitter divorce from his wife Jin, who guided Mosley's career for a short spell before the two split.
Still, the biggest obstacle facing Mosley is the unbeaten Mayweather. Many don't believe Mosley is up to the task. Age (Mosley is 38; Mayweather is 33) and Mayweather's speed are major problems for Mosley, experts say.
The odds are stacked against him too. Mosley is a 9-2 underdog.
Yahoo Sports