Category —
Myron Rolle
Jered Weaver's 4-hitter allowed the Angels to take 2 of 3 in their series against the AL West-leading Rangers in a 4-1 win today in Anaheim. Still, it left them 8 games back.
O.C. Register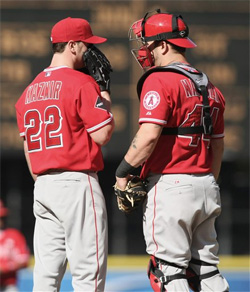 A's 15, Angels 1.
Scott Kazmir gives up a franchise record 13 runs in 5 innings as the A's deliver a beatdown.
Joe Maddon might have taken Mike Scioscia to the cleaners with the trade for Kazmir. It seemed like a good idea at the time.
O.C. Register
Even for the caveman-thinking (oops, there goes the Geico ad) NFL, it's still amazing that this line of thinking is encouraged to exist. In many industries, Myron Rolle would be applauded and celebrated for his achievements. You'd think clubs would roll out a welcome mat out for his services, but that isn't the mindset in the executive suites of the NFL.
Rolle, who was the 207th pick of last week's NFL Draft, has been ostracized by league executives, coaches and every team except the Tennessee Titans. Why? Because Rolle is the exception to the rule. He's a Rhodes Scholar and someone who represents the ultimate meaning of student-athlete (or in his case, scholar-athlete is more appropriate). But in the NFL, the less you know, the better. Coaches like to tell you how to walk and chew bubble gum at the same time. And they wouldn't want you to become too ambitious, particularly by taking a year off to study abroad to start building a sound foundation for your post-NFL career. What's next? You want to own the freaking team, boy?
Clay Travis hits Roger Goodell and the NFL with plenty of unsportsmanlike conduct flags. His commentary speaks volumes of how the neanderthals continue to call the shots and how they have no shame in their thought process.
FanHouse.com
Myron Rolle, the safety from Florida State who took a year off to study abroad as a Rhodes Scholar, got the call from the NFL today, the Tennessee Titans making him the 207th pick in the 6th round.
USA Today
One great thing I've learned about the braniac and Rhodes Scholar Myron Rolle: He's a Kappa, which brings a smile to a few brothers I know.
On a more serious note, it's unfortunate to read a string of stories about Rolle being slimed by his so-called lack of commitment because of his high academic achievements. Talk about the irony of stupidity. Some club will be smart and overlook all of that insane talk and draft the talented defensive back in the late first round or in the second. Whatever club drafts him is much better because of it.
After all, how much credibility can you give to some NFL scouts and coaches who hide behind anonymous quotes?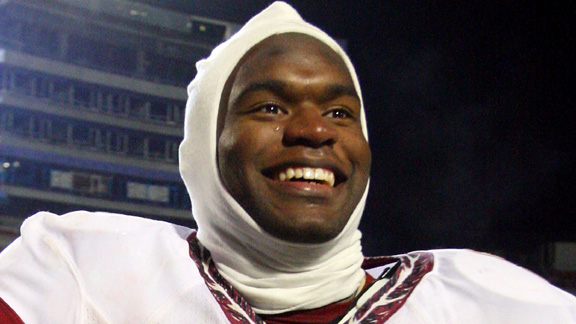 This is just another sad commentary on the NFL, but it doesn't surprise us. Hypocrisy and racism has clouded the judgment of many decision-makers in the NFL for far too many years. And unfortunately, it continues. Take Myron Rolle for example. Unlike many athletes, Rolle is a role model for many as a scholar-athlete. Yet, some of the idiots in the NFL, some of them team executives, question whether the Rhodes Scholar is focusing enough on football, which really doesn't take a Phi Beta Kappa to figure out. In other words, some league officials prefer their athletes to be thugs and lacking in intelligence. The dumber, the better.
ESPN aired an excellent "Outside the Lines" piece (and writer Wright Thompson wrote a superb one here ) yesterday on Rolle, the former Florida State star defensive back, who put off an NFL career for a year to study abroad as a Rhodes Scholar. With his skills and intelligence, you'd think Rolle would be a welcomed addition to any club. But that isn't always the case. Still, he'll be a first-round pick since not every NFL club has resident idiots making their decisions.
Rolle actually doesn't need the NFL, which is a breath of fresh air and an awesome option few players enjoy. More players could benefit by taking a page out of his playbook.
Pro Football Talk